| | |
| --- | --- |
| | Secure WAN communication for tele-workers. A case study. |
Description
This page is designed as a supplement to the paper "SECURE WAN COMMUNICATION FOR TELEWORKERS. A CASE STUDY" (by Rudolf Hörmanseder and Jörg R. Mühlbacher), and the presentation held about this paper at the ICETA 2001 (Kosice, Slovakia).

You can find the original paper in the ICETA 2001 Conference Proceedings (ISBN 80-89066-06-2) on page 217 to 223.
---
Contents
---
General assumptions and prerequisites for batch files:
The standard NT commands PING, ROUTE, FIND, FINDSTR and NET are available in the search-path.
The programs SLEEP and LOGEVENT from the ResourceKit are available in the search-path.
All command-files and programs from the download are in the current directory (or at least in the search-path)
Environment variable TEMP points to a directory with change-permissions for this process.
Process must have enough permissions to use all these commands, especially also to create or change routes, write events to the NT application log-files, write to log-files, do message-popup, ...!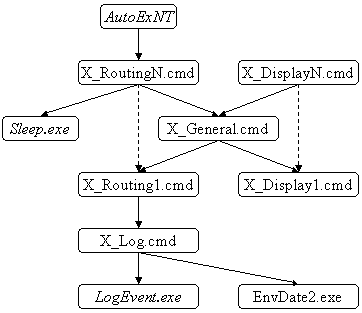 Figure: General structure of programs / batch-files
---
Last modified 2001-10-23 by Hörmanseder (Email).